Introduction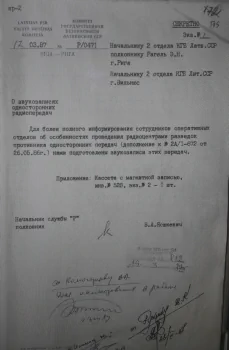 In 2019, the Latvian National Archive began digitizing the operational cases of the Soviet State Security Committee (KGB). These cases are from the timeframe of the 1960s-1991.  One of the most interesting documents was from the second chief directorate of KGB that was responsible for counterintelligence in the Soviet Union. During the study of these documents,  one particular case was found dating from 1978 to 1988 when the Service-R responsible for surveillance started complex efforts to monitor numbers stations coming from Western Germany, that KGB considered to be used by CIA, DIA, and West German BND.
The case is available in Riga, Latvia in Latvian National Archive KGB special reading room. The documents, however, require special permission that the author[note] Māris Goldmanis a master's degree historian from the University of Latvia, studies and writes about the history of national minorities and radio and intelligence history[/note]  gained as a researcher for Museum Jews in Latvia.
The particular case is in  Fund 1,  list 2 and case 51st named: "Monitoring for adversary agency presence in the radio channels. 1st volume. Ruling instructions and documents"[1] The case itself will be fully described in the future and serves as one of the most definite archival evidence of intel use of numbers stations and shows in-depth the work of counterintelligence trying to monitor these stations and use them to apprehend the adversary agents.
Almost at the end of the very detailed case, that was made digital, a peculiar image of a magnetophone tape was found in the digital case. The tape itself was not made digital, just the image of it is included. After authors request the Cinema and Photo Document Archive of Latvia, digitalized the tape. It turned out an almost 12 minute KGB instruction for its monitoring team with included samples of German language numbers stations. Two languages here – the Russian voice of the KGB instructor, the German female voice for the numbers station. The instruction was created on March 12 1987 "for a more in-depth description of the one-way broadcasts sent by adversary radio centers, as intended for members of the operative services".[2]
The KGB called these messages as "one-way broadcasts" in its professional language. It's likely that one of the examples in the recording was G16 by BND. The original recording is in Riga, Skandu street 14 and this is the mobile phone re-recording of it so it includes some background sounds. However, the quality of this recording is good enough and as archive allowed to publish this re-recording along with transcript provided by our own researchers of the Numbers Stations Research and Information Center. This recording of a Cold War war Numbers station is one of the most unique recordings ever found. It's not a mere usual recording made by radio amateurs of the era, it is specially made recording by the KGB counterintelligence, where the recording samples are used to describe what these stations are and how to correctly understand them.
This is the first publication of the "KGB counterintelligence monitoring of the western intelligence radio transmissions. Exclusive from KGB archive"
Recording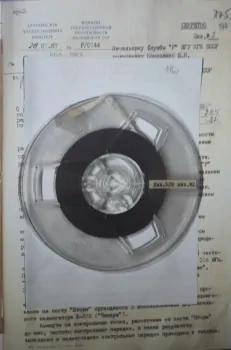 Transcript[3]
As a rule, enemy intelligence agencies conduct one-way radio communication by means of voice transmissions. The announcer is usually a woman, speaking English or German. There is another type of such broadcast which can only be received using an extension device installed on a radio receiver.
One-way radio transmissions are broadcasted on  2 or 3 frequencies simultaneously, based upon a set schedule. The following is an example of a German-language radio transmission by the US intelligence center based in Frankfurt.
For 10 minutes, the announcer says a 3-digit callsign 3 times, and a sequence of numbers from 1 to 0
Caption: [319 | 1234567890]
10 tonal signals that mean "Attention" are played in front of an encoded message.
Caption: [319 1234567890 | 10 tones ]
The number of encoded text groups is pronounced twice, followed by the encoded text in groups of 5. When the transmission of all groups is complete, the announcer says "Wiederhollen", and groups are repeated. Any transmission is finished with the word "Ende".
Caption: [GRUPPEN: 73 | 465-70 044-54 058-55 845-36 818-55 504-38 488-54]
All 73 groups follow.
The same structure is applied to English language stations.
An example of a BND station in German (which can be identified as G16 – translator)
For 5 minutes, the broadcast plays an interval signal and a 2-letter callsign.
Caption: [ Interval signal | TANGO INDIA]
Then, the announcer reads 3-digit recipient IDs and the number of code groups intended for each recipient.
Caption: [ES FOLGEN MITTEILUNGEN FUR |  618 – 35 Gruppen |  445 – 62 Gruppen]
The station continues with 5-digit code groups:
Caption: [618 35 Gruppen 32346 63620 18805 15799 12886 06797 82713 … 19957 ENDE]
There is a category of enemy intelligence broadcasts that can only be received using a special plug-in device for radio receivers.
Example:
Caption: [RTTY signal]
Tape reeling sound in the end.
Recording obtained by mg.hist Māris Goldmanis (Latvia)
Transcript made by mcs. Yuri Giderashko (Ukraine)
Disclaimer: The primary owner of the original recording is Latvian National Archive, Latvian State Archive (Latvijas Nacionālais Arhīvs, Latvijas Valsts Arhīvs). Any republishing of this re-recording here first requires permission from the Numbers Stations Research and Information Center and Māris Goldmanis. 
Second in the case of referring to this recording in other sites or media the reference must be Latvian National Archive (LNA), Latvian State Archive, 1st Fund, 2. List. 51st case. 176.a
In short:
LNA LVA 1. F. 2.apr. 51. L. 176.a.
The author would like to say best regards to the employees of the Latvian National Archive who were very helpful while conducting study on the KGB archive.
Archival Footnotes
[1] LNA LVA 1. F. 2.apr. 51. L. Pretinieka aģentūras meklēšana radiosakaru kanālos. 1. sējums . Vadošie norādījumi un dokumenti.  (reference according to Latvian official archival reference instructions)
[2] LNA LVA 1. F. 2.apr. 51. L. 172.lp.
[3] LNA LVA 1. F. 2.apr. 51. L. 176.a.