The HF-GCS is used by the United States Air Force to send instructions for their operations through messages, and most commonly send Emergency Action Messages (EAMs).  The HF-GCS is not exclusive to the USAF, and is used by other countries too, but not as often.  They also send higher priority messages known as "Skyking Messages" which will even be read over-top and interrupt an EAM to be read.  Both of these messages are time sensitive and are read live in NATO Phonetic letters.
The primary HF-GCS frequency is 11175 kHz, and it transmits 24/7 on that frequency as well as 8992 kHz.  The HF-GCS also transmits on 4724, 6712 (Croughton), 6739, 13200, and 15016 during their scheduled times, which is still most of the day.
The High Frequency (HF) Global Communications System (HFGCS) supports war plans and operational requirements for the following organizations: White House Communications Agency (WHCA), Joint Chiefs of Staff (JCS), Air Mobility Command (AMC), Air Combat Command (ACC), AF Air Intelligence Agency (AIA), Air Force Materiel Command (AFMC), Air Force Space Command (AFSPC), United States Air Forces in Europe (USAFE), Pacific Air Forces (PACAF), and Air Weather Service (AWS).
Emergency Action Messages
EAMs are frequently read on the HF-GCS frequencies and usually won't take you long to hear one.  They begin with a 6 letter header, this preamble could have a few different uses, but NPS states for Minuteman Missile launches "The preamble told the crew which edition and page number of a non sealed authentication to use.  Once at the right page the crew would know what message checklist to use."  The receiving crew has access to an emergency action checklist binder where the message and instructions are copied to.  Then the message continues afterward and is repeated.
A typical EAM message is 30 characters long but can be different.  There have been EAMs over 200 characters long before.  The message usually ends with "Mainsail Out", but can change based off where it is being sent from ex. (Offutt out).  Mainsail is the collective callsign for all ground stations in the network.  From 2013 – April 2015, "Mainsail Out" was a much more commonly used ending than the originating base.  Since then, you will now mostly hear a callsign being used for the sender/recipient.
Another unique callsign is SkyMaster – the collective callsign for all USSTRATCOM airborne command units
Sometimes messages are intended for specific recipients, and tactical callsigns are read at the end of a message.  For example "For WAITER" and "For TRINITY" have been used as tactical callsigns before. These callsigns are changed very often, and can change in less than an hour or possibly even shorter.
Test counts are also normally sent over the HF-GCS:
"This is mainsail with a test count… testing 1, 2, 3, 4, 5… 5, 4, 3, 2, 1"
Sometimes you will notice an echo of the voices in the background. These echos are a result of propagation delays because of slow landlines and the satellites going to the multiple widely spread transmission sites.
2019 Recording
2012 Recording
Force Direction Messages
Force Direction Messages (FDMs) are another type of message sent through the HF-GCS, however there is no way to tell if an FDM is being sent or if it's just another EAM.
The Single Channel Transponder System (SCTS) provides Emergency Action Message (EAM) and Force Direction Message (FDM) dissemination capability to command centers (USSTRATCOM, EUCOM, SHAPE, NMCC, USSPACECOM, and PACOM) and force elements for the control of strategic and non-strategic nuclear forces.
Skyking Messages
Also known as "Foxtrot Broadcasts" are Skyking messages.  These are a higher priority message and are sent in a different format from EAMs.  Skyking messages will sometimes even interrupt an ongoing EAM since it's the highest priority.  "Skyking" is the collective callsign for sending messages to all Single Integrated Operation Plan (SIOP) aircraft and missile Ops which are also responsible for deploying strategic bombers, reconnaissance aircraft, and various support aircraft.
A Skyking message begins with the reader speaking "Skyking Skyking do not answer", followed by a codeword, then two numbers for the time of the hour, and ends with a 2 letter authentication string.  The message is then repeated.  Skyking messages have the same ending as a regular EAM and can also change depending on where it is sent from. Until 2016 Skyking began with a 3 letter trigraph instead of a codeword.  In 2015-2016 the trigraph was still used, but sometimes a codeword was used instead.
Example of a Skyking Message
Example of the operator telling the receiver to disregard his last message
Use of the Skybird Callsign
Skybird is the collective callsign for all USSTRATCOM command posts, launch control centers, Global HF stations, Air Traffic Control (ATC) towers on Air Combat Command (ACC)/Air Mobility Command (AMC) host tenant bases, Singles Sideband HF radio stations, and air defense sites in Canada.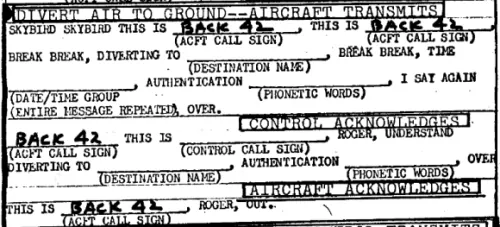 "Skybird" is rarely ever heard on HFGCS comms.  When a Skyking message is sent out, the receiving plane(s) transmit to Skybird – which is what sends the Skyking message and acknowledges it.  Skybird likely has many other uses and also has changed over time, but we've seen proof of this Skybird in the CIA CREST archives.
Locations Around the World
The HF-GCS has multiple transmission sites in different countries to ensure they can transmit worldwide, thus the name "Global Communications System".  Each of the sites also has an ALE callsign.  ALE (Automatic Link Establishment) is an HF system used to connect to an HF station or a network of stations.  The HF-GCS also an HF gatwate to SIPRNet, a network that the US Department of Defense uses for their classified info.
Known HF-GCS sites
Andersen Air Base, Guam
Andrews AFB, Maryland
Ascension Island
Croughton AB, United Kingdom
Diego Garcia Naval Station, Indian Ocean
Elmendorf AFB, Alaska
Hickam AFB, Hawaii
Keflavik NAS, Iceland
Lajes AB, Azores
McClellan, California
Offutt AFB, Nebraska
Salinas, Puerto Rico
Sigonella Naval Station, Sicily, Italy
Yokota AB, Japan
Air Force Eastern Test Range, Florida
"MPA", Unknown
Closed Sites
Thule Air Base, Greenland
Keflavik Global, Keflavik NAS, Iceland
Station Summary
Name: High Frequency Global Communications System
Country of Origin: USA (See Below)
Voice Summary: Male/Female Live
Frequencies: 4724.00 kHz, 6739.00 kHz, 8992.00 kHz, 11175.00 kHz, 13200.00 kHz, 15016.00 kHz, 6712.00 kHz(Croughton)
Mode: USB
Rare Activity Recordings: Unique HFGCS Recordings
Videos mentioning EAMs, Skyking, HFGCS Activity
EAM messages explained in PBS news video
Turning The Titan Missile Key
SR-71 pilot mentions Skyking
Articles and Sources

GlobalSecurity.org Profile
National Park Service Minuteman Missile EAM Article (Archived)
Numbers & Oddities HFGCS Profile
Numbers & Oddities EAM, Foxtrot, FDM
What are Emergency Action Messages (EAM)?
CIA CREST Archive CIA-RDP69B00041 R001900130012-2