The Squeaky Wheel is part of a Russian military communications network believed to be operating in the South military district.  Most of the time it sends a squeaking like signal marker to preserve the frequency for constant use.
Every day on occasional times the signal marker drops and a voice message is read. Usually it sends Dlya messages with a word + callsign for testing the readiness of military outposts and training. It can also send command messages in similar way to buzzer. The Squeaky Wheel also had the Enigma Noise ID XSW and station ID S32.
S32 Recording Sample
To see how this station changed over time see the S32 "The Squeaky Wheel" Section in "From The Conet Project to Today"  The stations channel marker has changed over time, which now uses three tones instead of the two.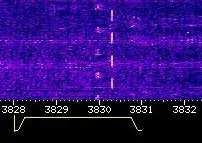 The Squeaky Wheel Location
The presumed location of the Squeaky Wheel transmitter was thought to be 59°44'47″N 30°15'58″E within the outskirts of the St Petersburg, however new observations suggest that S32 transmitter is actually located in Rostov on Don, Russia. There are wheel message recordings with the pip marker signal in the background. It indicates that signal came from the same place or receiving site of the Southern Military District.
Other indications leading to this are is same call-signs used by both radio stations, similar signal strength, and similar way of using timetable. If this is so, then the wheel is used for different unit types within the South Military district, like marines or regular units. For instance during the Sochi Olympic games opening both pip and wheel sent clear word message instructing all military personnel to halt all maneuvers and weapon usage during the opening of the winter Olympic games.
If the Wheel transmitter is located in the ST Petersburg, Western Military district, such messages would be needless. Another thing that leads to fact that site near ST Petersburg is not used by the wheel transmitter is that its associated with army unit Nr 61240 that its associated with FSB and GRU. The unit 61240 seems to be part of the KGB  military units during Cold War and still are within its successor FSB.
Also what makes the wheel in Rostov theory more plausible is the propagation and receiving issues. If it was located within Northern Russia it would be more easily received within Western Europe and the Baltic Region. Which is not the case and receiving quality especially during day time is same as pip. We still need to fully verify the theory that wheel is located at same site as pip. We will update the information on the location when ready.
S32 Message Samples
Message on 3828 kHz
Message on 5473 kHz
Station Summary
Name: The Squeaky Wheel
Emission Mode: AM for signal marker, USB for voice messages
Frequency: Daytime: 5473 kHz Nighttime: 3828 kHz
Voice Summary: Male/Female Live
Counterpart Stations: The Buzzer, The Pip
Location: See Above