These newsletters are the work of the original ENIGMA (European Numbers Information Gathering and Monitoring Association) group and have been converted into PDF format.  ENIGMA  was founded by Chris Midgley and Mike Gaufman who researched numbers stations and produced newsletters from 1993-2000.
They published them in hard copies, originally releasing 4 newsletters a year and then changed to releasing 2 a year instead. These newsletters contain the first works of in-depth numbers stations research and also created the first system of classification for them.
Before the Group disbanded in 2000 the Co-Founder of ENIGMA, Mike G. stated that all ENIGMA publications and research material would be archived in the British Library, which includes these newsletters.
ENIGMA Newsletters Issues 1-18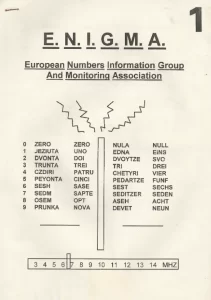 These newsletters were originally posted by Simon Mason, and were scanned by priyom.org